Drive Wheels
Drive wheels are our premium road offerings. The following is an introduction explaining the tech that goes into making the lightest road wheels currently raced in professional cycling.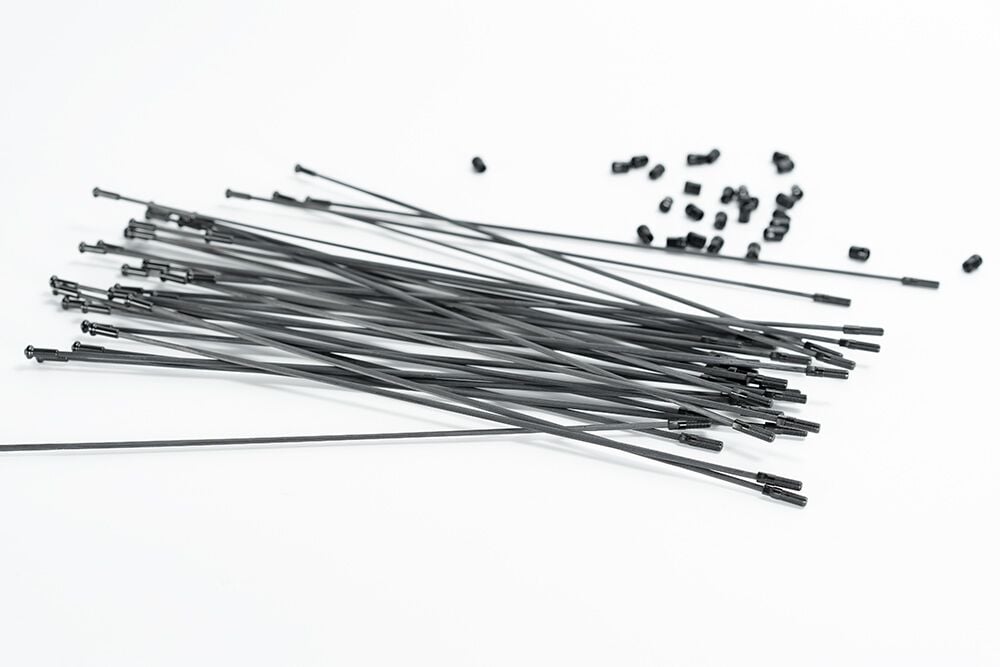 Carbon Spokes
Stiffness
One of the most striking differences between the carbon spokes on Drive wheels and alloy spokes is the differencec in lateral stiffness. Riders who have experienced riding on different wheelsets will be able to tell there is something a little different. Carbon spokes offer a 7% increase in lateral stiffness over traditional steel spokes. This translates to improved power transfer, allowing you to save watts whether you are sprinting or riding casually.  Less power is lost due to wheel deflection.
But this increase in lateral stiffness doesn't mean an uncomfortable ride. The wheels are just as vertically compliant as steel spoke counterparts. Drive wheels' wider internal width means wider tires can be used. Running wider tires in fact make the biggest difference when looking for a comfortable ride.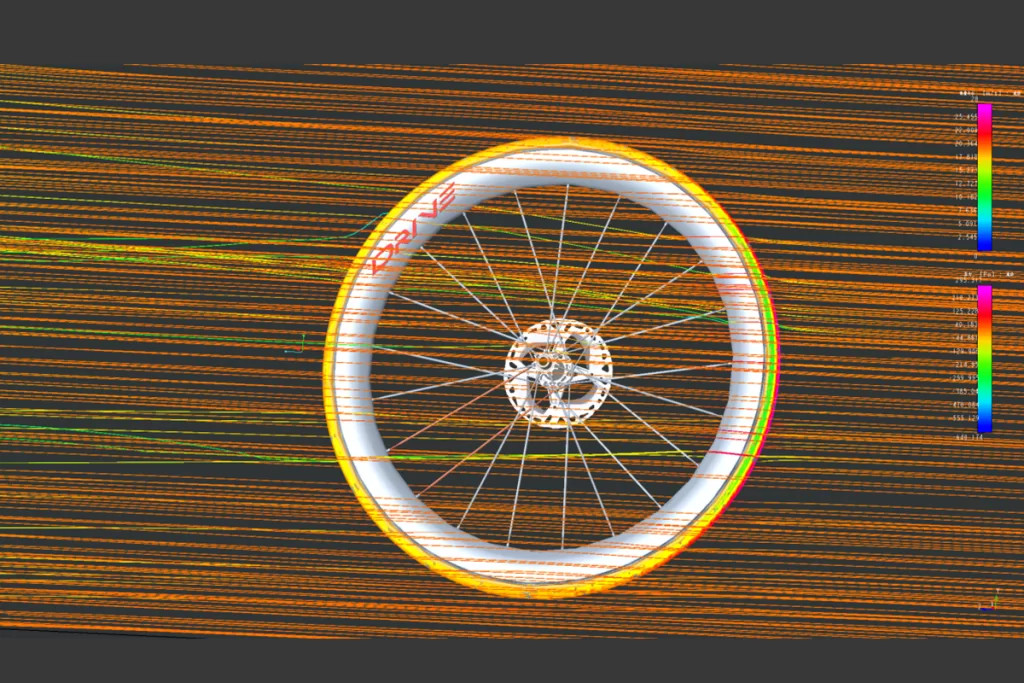 Aerodynamics
Carbon has a unique advantage over materials like steel and aluminum. Virtually any shape can be made using carbon. Not only that, but carbon fiber has a much higher strength to weight ratio, allowing these shapes to be strong as well if designed correctly.
Our 3.3mm aero bladed spokes have been designed to offer an aerodynamic advantage to cyclists wanting a wheel that is fast on the flats and descents. Aerodynamics is the biggest force to overcome in most road cycling terrain. We believe that a performance wheel should be as fast on the road as possible, and that is why carbon spokes were chosen.
Weight
Carbon is well known in the cycling industry for having a higher strength to weight ratio. When most people think about carbon fiber in cycling, the first things that come to mind are rims, frames, handebars, stems, etc… Just as carbon fiber can offer benefits for these parts, it can also improve on the traditional steel spoke.
Elitewheels looks to push the wheel industry in a new direction. Our carbon spokes can withstand higher spoke tension and are therefore stronger than steel spokes. They are roughly 30% lighter than even Sapim CX-Ray spokes, coming in at a little over 3 grams. This weight savings ads up depending on the number of spokes, making wheelsets significantly lighter without sacrificing durability.
Ease of Serviceability
One issue that plagued older carbon spoked road wheels is the fact that they cannot be replaced. On these wheel designs, a broken spoke would mean the entire wheel would have to be disposed of.  Not only is this expensive, but it is also not friendly to the environment. These wheels featured spokes that were bonded to the rim and to the hub.
Elitewheels has a different philosophy. Why not create threaded carbon spokes that can be just as easily replaced as traditional steel spokes?
For this reason, all Drive road wheels and the Drive G45 carbon spoke gravel wheel have replaceable threaded carbon spokes. The threads built into the nipples achieve a double-locking, anti-loosening effect, which is essential for carbon spokes. Each new wheelset comes with four spare spokes. This means that if something were to happen, the rider or a local bike mechanic could easily replace the spoke and you could get back to cycling quickly.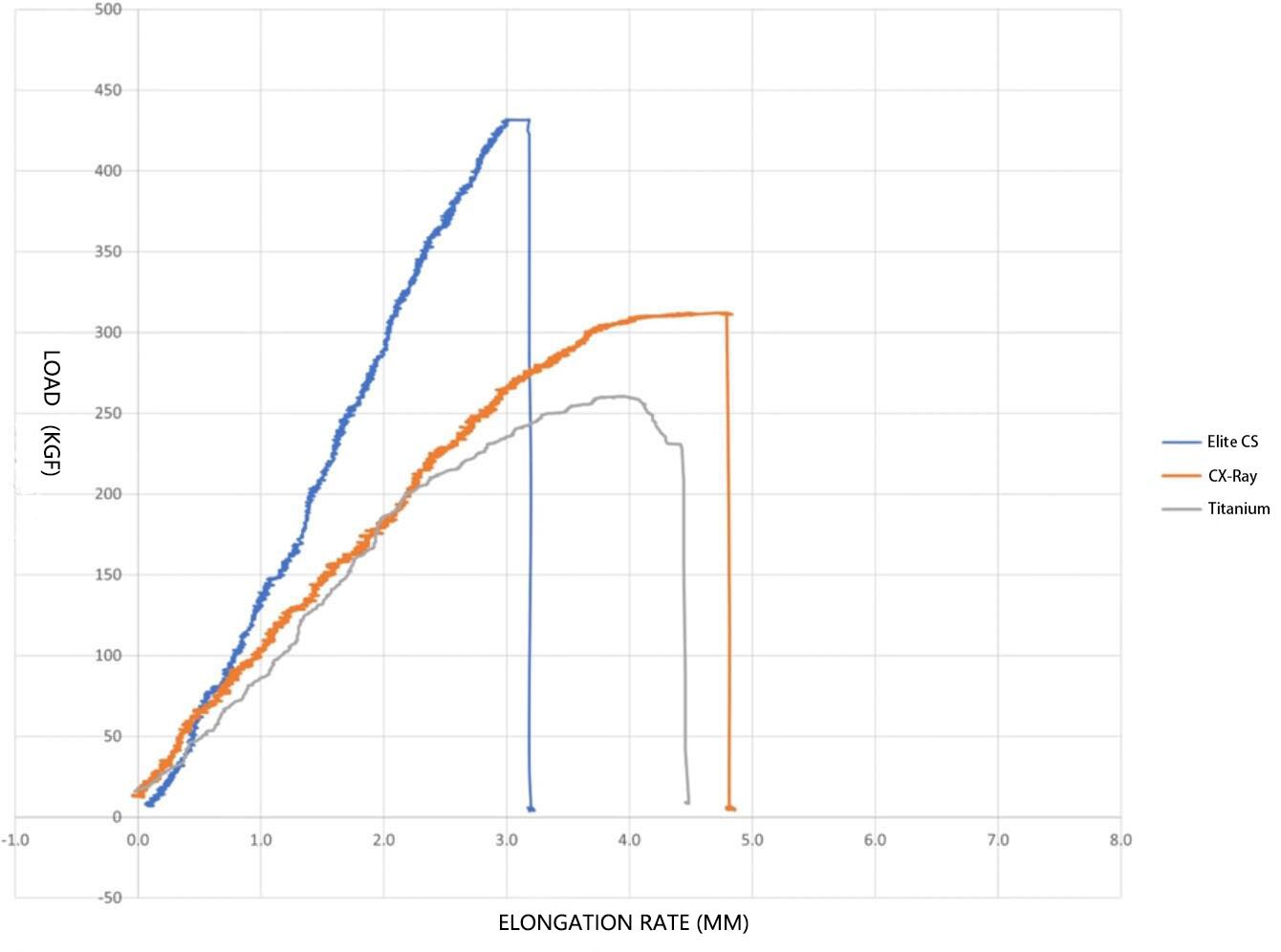 Durability
Just as there were concerns about the durability of carbon fiber wheels, frames, etc… in the past and present, the same is true now for carbon spokes. It is true that not all bike parts are created equal.
Elitewheels makes use of state-of-the-art carbon spokes. Each new model is tested thoroughly before implementing it into a new wheel design. We employ a variety of tests including a max spoke tension test, which has shown that our spokes far outperformed the best steel spokes. While no spoke is indestructible, our spokes have been tried and tested. They have been pushed to the limit by our 5 sponsored UCI Continental professional road racing teams proving they can handle even the toughest racing conditions.
Custom Spoke Angles
In order to increase the longevity of our carbon spokes, each Drive road wheelset features custom spoke angles. The reason for this is to reduce the stress on the carbon spokes and nipples. Having spoke holes drilled at specific angles in order to line up with hub flanges makes for a stronger, more reliable wheel.
Our spoke angles are also drilled as to prevent the carbon spokes from touching on another, eliminating the risk of premature wear.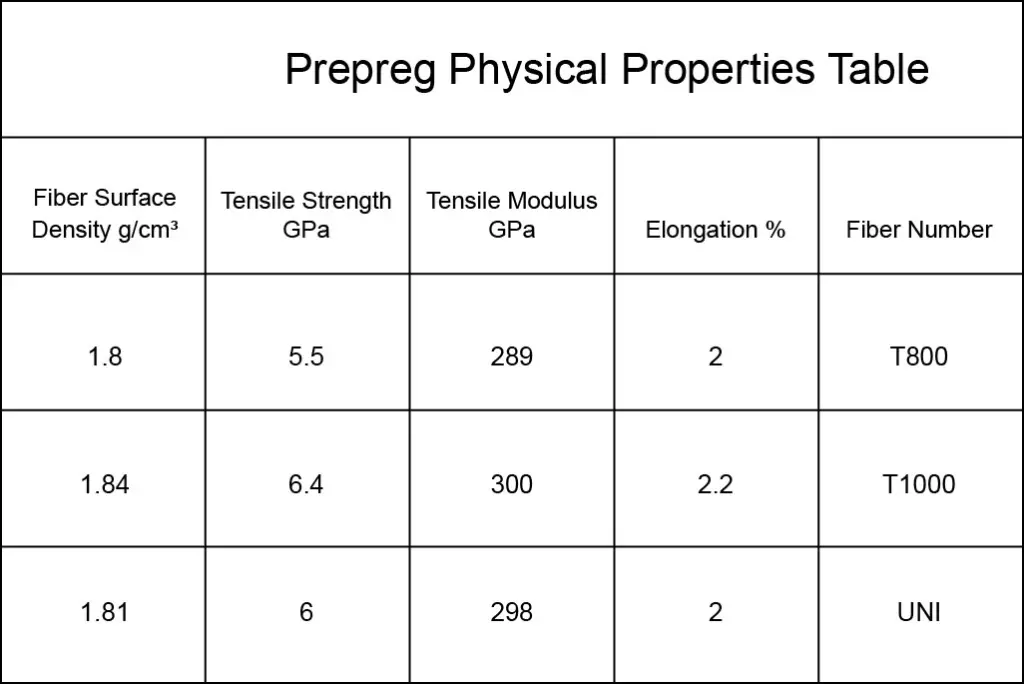 UNI Carbon Fiber
High Grade Fibers
What is relatively unknown to cyclists is where the carbon fiber in their wheels actually comes from. Carbon fiber for bicycle parts is made in mainland China, Taiwan, and Japan. The highest quality carbon fiber comes from Japan. Wheels that use Japanese Toray carbon fiber can be made lighter while maintaining the same strength.
For UNI carbon fiber, Elitewheels chooses genuine Japanese Toray carbon fiber. The quality of the carbon fibers used is the foundation of a good carbon wheelset, and for the Drive road wheels, the highest production quality carbon fibers were chosen.
High Temperature Custom Resin
One thing that separates Elitewheels from other brands is the fact that all of the resin and carbon fiber pre-preg are made in-house.
Combined with Japanese Toray carbon fiber, Elitewheels produces carbon fiber pre-preg in Xiamen using its own resin. This resin in low in volatility and offers excellent properties to both the rim brake and disc brake wheelsets.
The importance of the 250 degree high-temperature property of the resin has to do with rim brake wheels. De-lamination due to braking is essentially eliminated, allowing you to feel comfortable on long, steep descents, even in hot conditions.
Lightweight
As mentioned before, using genuine Japanese Toray carbon fiber can give a rim a better strength to weight ratio. Using our custom made, in-house UNI pre-preg with Toray carbon fiber, we are able to manufacture superlight wheels.
All of our road wheels are strong and UCI certified. They start as low as 1255 grams for our Drive 40V rim brake wheelset and 1260 grams for our Drive 40D disc brake wheelset, making them perfect for climbing. The 50V(1315 grams), 50D (1300 grams), 65V (1500 grams), and 65D (1460 grams), while not as light, are still much lighter than other climbing wheels of lower depths, giving riders the best of aerodynamics and lightweight.

The Rim
U/V Rim Shape and Aerodynamics
In designing a rim, one factor that is considered is the rim shape. One common philosophy is to make a rim that has a v-shape. The purpose of this is to create a rim that is aero in one direction. Under perfect conditions without side winds, for example in a wind tunnel, it is without a doubt the best option. Wind conditions in the real world are not perfect unfortunately. For this reason, Elitewheels has decided to take a different approach.
The U/V design allows for the wheels to be more aerodynamic at a large range of yaw angles. An added benefit to the design is improved stability in crosswinds.
Drive wheels are aerodynamically optimized for tires ranging from 25-28mm.
Strength
A good carbon wheel is not just about performance. Having piece of mind that a wheelset is of high quality and will survive tough road is in fact the most important thing to look out for. For this reason, we have not only chosen to do the UCI vertical impact test but also a host of additional tests determining the strength of the rim, including four additional impact tests and a max spoke pull-through test.
In  order to make a wheel that is strong, stiff, aero, and light, we use both unidirectional and woven bidirectional carbon fiber. The unidirectional carbon fiber allows rims to be lighter weight. Bidirectional fibers are often used to provide additional reinforcement where needed. Each wheel has its own specific carbon layup that is the results of years of research and development.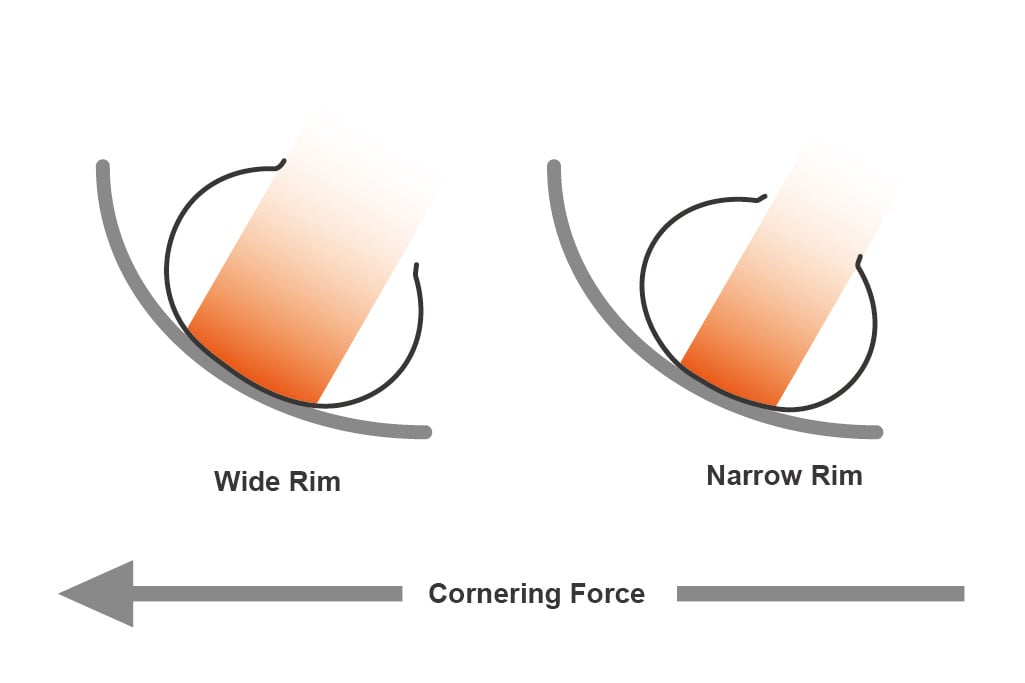 Wider Tires
There has been a recent trend towards wider tires in road cycling. Drive road rims are no exception. Depending on the wheelset, rim inner widths are either 19.5mm or 21mm, and outer widths are 28mm. What this means is that they can support tires of up to 38mm. Wider tires can be run at lower pressures and can offer more confidence when descending and riding in poor conditions, as they have increased grip.
In addition, wider tires absorb vibration much better, therefore reducing rider fatigue on longer rides and on rough surfaces.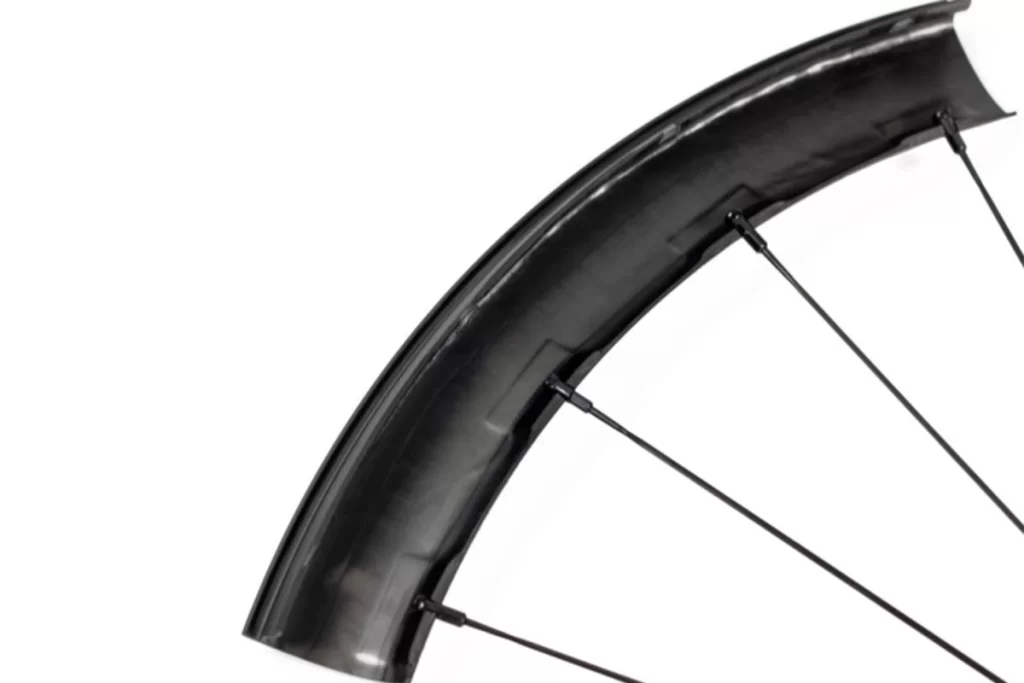 Smooth Inner Side Walls
One thing that truly separates the wheels made by Elitewheels and those offered by other brands is the tech that is involved in production. While invisible from the outside, an endoscope can reveal how well a rim is truly made. The inner side walls of a rim offer insight into how well a rim was made. Excess resin, wrinkes and even voids may become easily visible. Voids, wrinkles, and excess resin can make rims less uniform and much less compact and potentially fragile.
Elitewheels avoids wrinkles by employing a thorough quality control process. Since production is not outsourced, we can be sure there is no cutting corners. We can keep a close eye along every step of a rim's manufacture, having workers and supervisors check the work of those earlier in the production line. Any rim found to have defects, namely problematic voids and wrinkles is rejected.
The problem of excess resin has been virtually eliminated due to custom pneumatic bladders we use during the molding process. These bladders are then extracted through spoke holes after molding, leaving a smooth inner rim.
One added benefit of having a rim with smooth inner walls is that the contact area between the rims and nipples is increased, causing less stress on both parts and reducing the risk of a spoke slipping, making the wheel go out of true.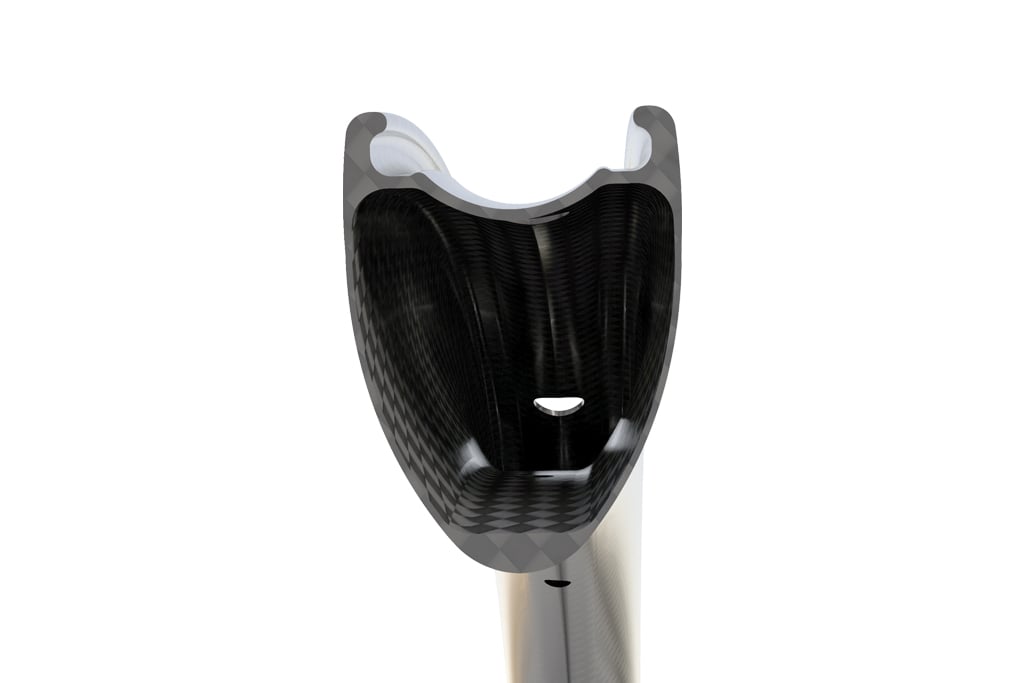 Tubeless Ready
In order to appeal to the most riders, all of the Drive series road wheels are tubeless ready. They can be fitted with either regular clinchers and inner tubes or tubeless tires.  This allows for versatility and offers the choice between two of the most popular systems.
Fitting tubeless tires has been made easy due to our R-angle rim bead design as well as retention ridges. The R-angle design allows for easier mounting, reducing the need for tire levers to be needed when mounting. The retention ridges make for easy tubeless inflation, meaning a floor pump is all you need for a variety of tubeless tires.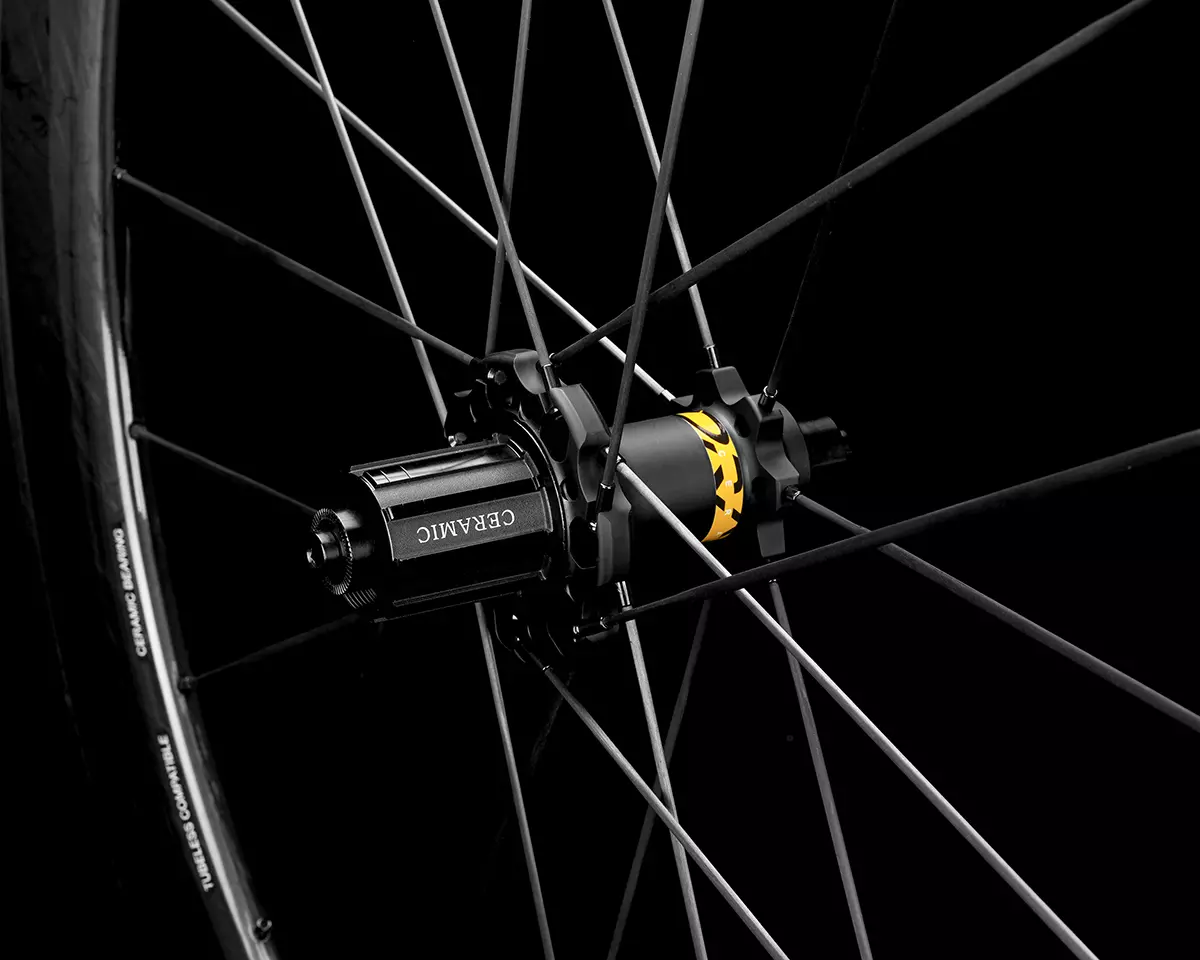 Hub
High Flanges
To get the most out of carbon fiber spokes, we have designed high flange hubs which contribute higher lateral stiffness, offering better handling. This is because high flange hubs have wider bracing angles. They offer the additional benefit of increased strength, as there is more space between spoke holes.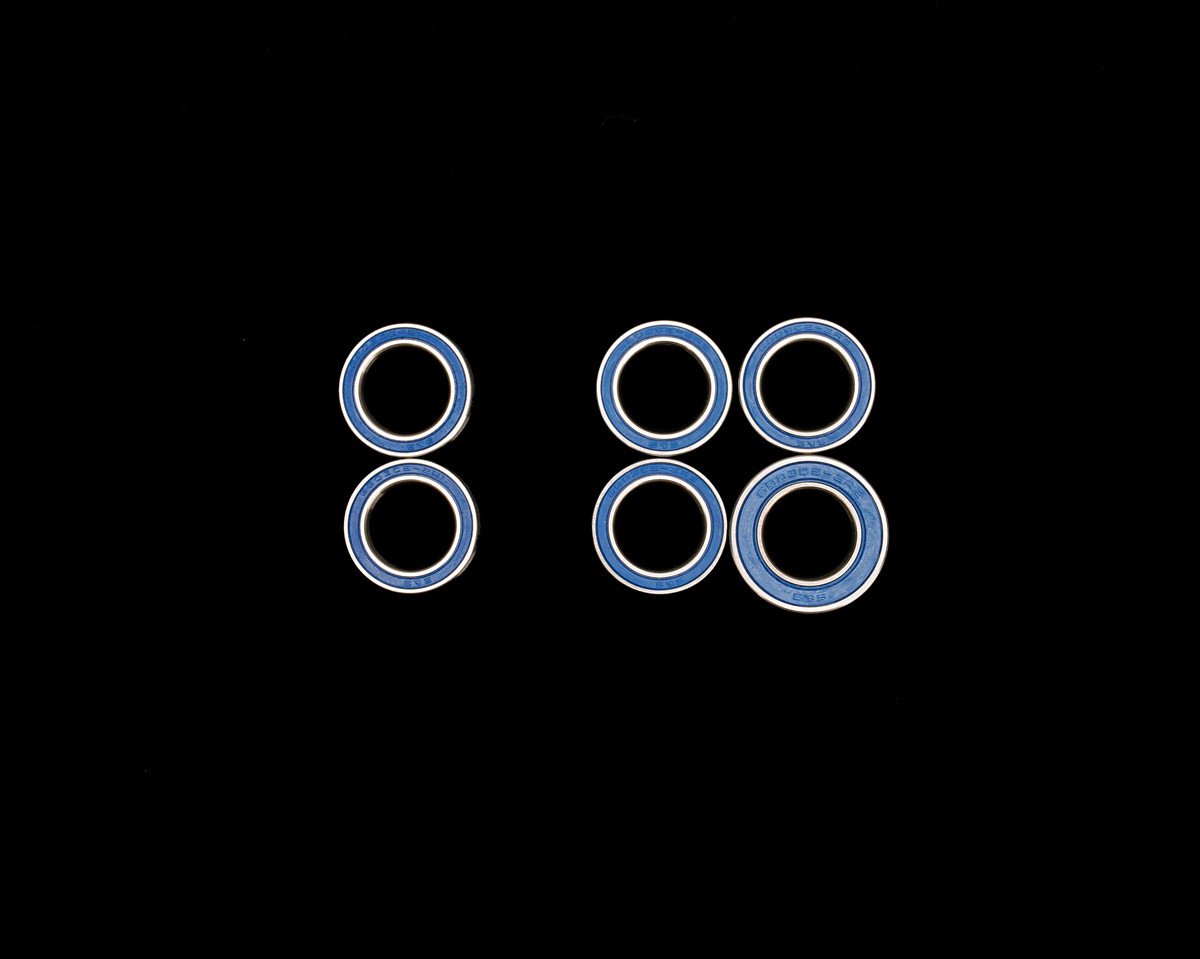 Mixed Ceramic Bearings and High Precision Machining
Our Drive series road wheels all use mixed ceramic cartridge bearings. They can offer improved rolling resistance in comparison to steel bearings. We forge and machine all of our own hubs using high precision 5-axis Fanuc CNC machines with tolerances of 0.02mm. This precision allows for our hubs to be very concentric, putting minimal stress on the bearings, allowing them to continue to offer the same low rolling resistance and maintain a long service life.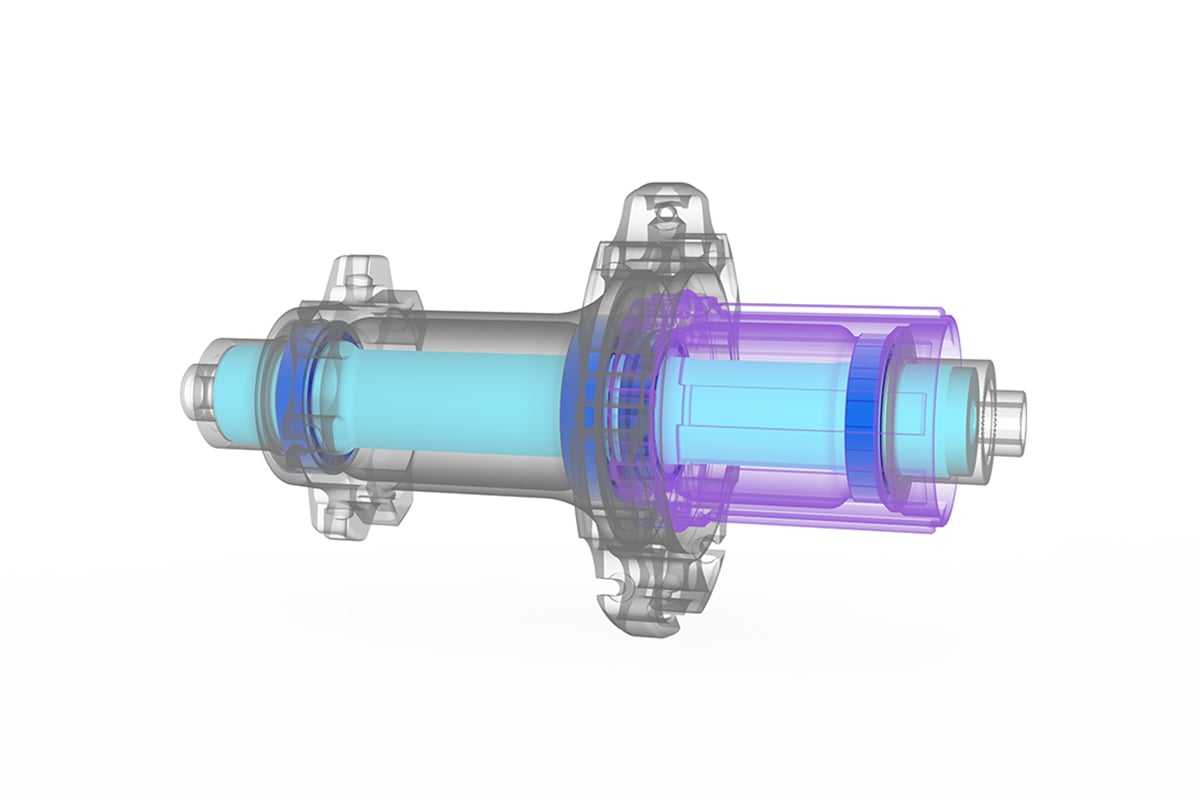 In-House Hub Design and Manufacture
Elitewheels produces all of its own hubs out of 7075 aluminum. Each hub is forged and then machined, creating hubs that are not only strong enough to resist high amounts of stress, but also made to perfectly fit smooth mixed ceramic bearings. Each of the Drive hubs has been specifically created to be used with our carbon spoke wheels.
Ample weather sealing is used to ensure hubs are able to keep rolling in even the toughest of road riding conditions.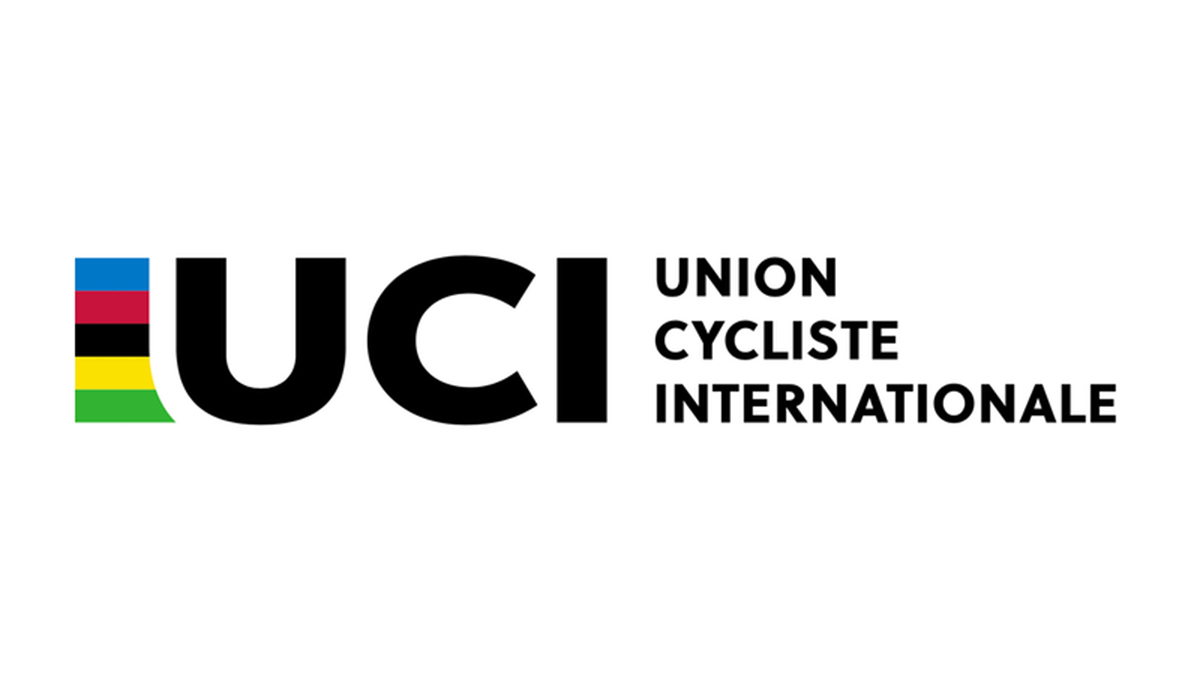 Going Beyond
UCI Approval
The UCI (Union Cycliste Internationale) is the world governing body for sports cycling. At Elitewheels, we believe that there is no better way to show the performance of a wheel than cooperating with professional cycling teams. Because of this, we have sponsored 5 UCI Continental teams. Before they were able to use our wheels on the world stage, each wheel was UCI certified. Of our road wheels, the Drive 40D, Drive 50D, Drive 65D, Drive 40V, Drive 50V, and Drive 65V have all been UCI certified.
This UCI certification demonstrates how resistant a wheel is to an impact, assuring riders that their wheels will be safe if there is a pothole, unexpected obstacle,  or crash.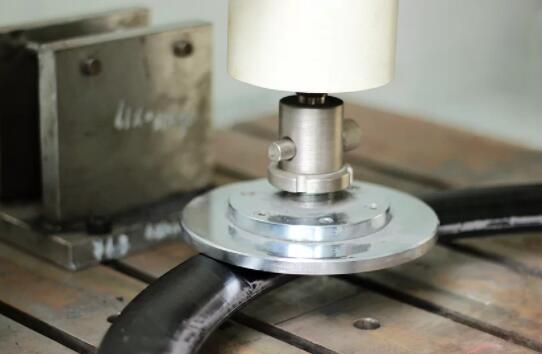 Additional Testing
In addition to the UCI vertical impact test, each of our wheels undergoes more than a dozen other tests. We believe don't believe that the bare minimum should cut it. A range of tests allow us to be confident that our wheels are not only strong, but also reliable, long-lasting, stiff, uniform, and capable of withstanding forces beyond those encountered in even professional cycling races.
Our tests consist of the following:
4 vertical and 20 degree offset impact tests of the rim and wheel
4 radial and lateral stiffness tests of the rim and wheel
2 radial and lateral runout tests of the rim
1 torque fatigue test of the rear hub
1 20,000km endurance test
1 spoke hole pull through test
1 carbon spoke max tensile strength test
1 max tire pressure test
Quality Control
In order to offer consistently good products, Elitewheels has vertically integrated. By cutting out the middle man, almost every aspect of a wheel's production can be accounted for and closely monitored. Elitewheels engineers and produces its own resin, carbon fiber prepreg, hubs, rims and complete wheelsets. This allows us to oversee much of the process.
Our factory's skilled quality control managers ensure that every part matches the original design. Each rim is made by hand by skilled workers. During each step of its production, workers check the rim for any possible void, wrinkle, or any other defect. Weights are measured after each step in the production to further ensure uniformity.
Wheel builders then pay close attention to each wheel they true. Their experience with building thousands of wheels gives them unmatched attention to detail. Finally, before wheels are ready to be sent, they are given a final inspection.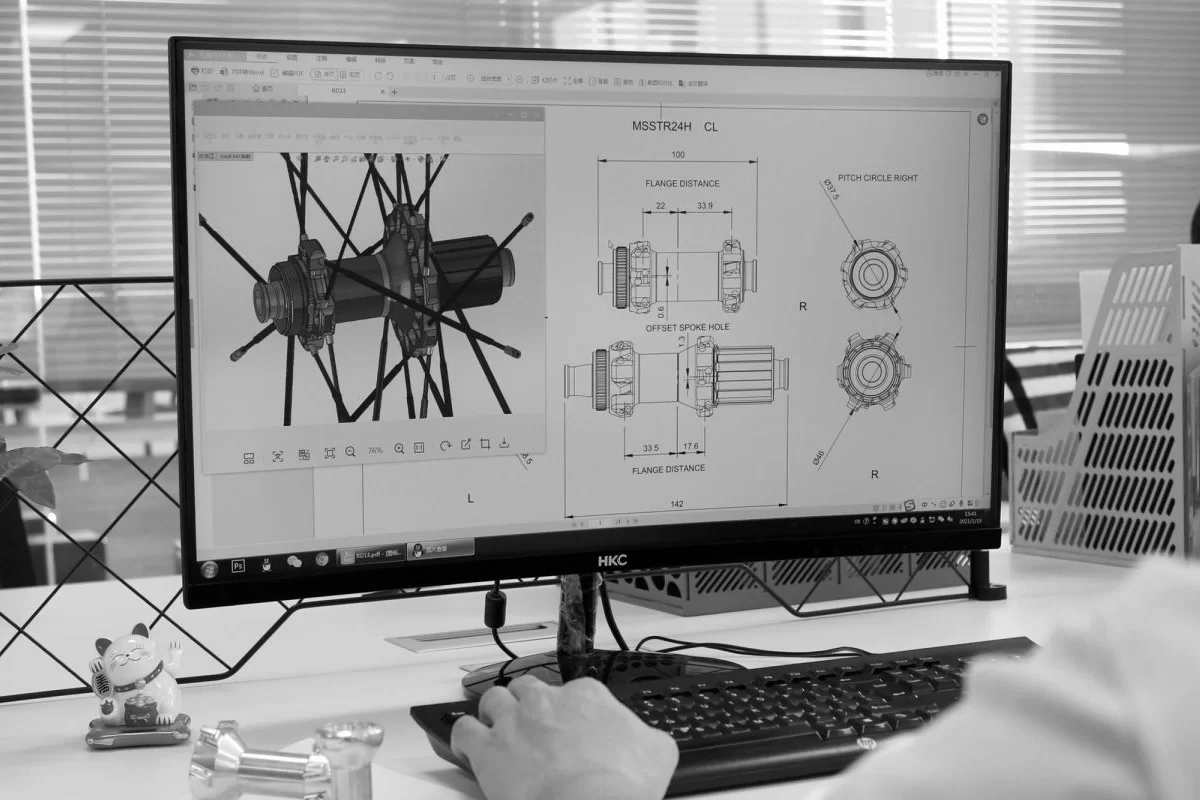 Engineering Expertise
All of Elitewheels Drive wheels are designed in-house by a large full-time engineering team. From resin and prepreg, to rims and hubs, everything is taken into consideration when designing a new wheel. A long development process including testing various layups and hub designs is important for creating a truly high-performance wheelset. Drive wheels are the result of nearly a decade of constant research and development.
Our engineers are also cyclists themselves. They as well as other staff actually ride the wheels during development, as Elitewheels' philosophy is that laboratory and real world testing are both essential.
Wheel Building
Our team of experienced wheel builders take great care when putting together our wheelsets. Each wheelset is trued to within 0.2mm of true. This is especially important, as a true wheel is not only more balanced and comfortable ride, but it is also much safer.
Spoke tensions are trued to within 5% tension, and each wheel is destressed a total of 16 times and retrued twice. This process, while time consuming, guarantees wheels will be as true after years of riding as they are on day 1.