Description
| | |
| --- | --- |
| Rim | |
| Series | Drive |
| Wheel Size | 700c |
| Tire Compatibility | Clincher/ Tubeless |
| Rim Depth | 50mm |
| Inner Width | 19.5mm |
| Outer Width | 28mm |
| | |
| --- | --- |
| Hub | |
| Front Hub Spacing | QR x 100mm |
| Rear Hub Spacing | QR x 130mm |
| Bearing | S&S Ceramic |
| Brake Compatibility | Rim Brake |
| Freehub Type | 4 Pawls |
| Freehub Compatibility | Shimano / SRAM XDR / Campagnolo |
| | |
| --- | --- |
| Spoke | |
| Front Spoke Pattern | Radial |
| Rear Spoke Pattern | 2X/Radial (2:1) |
| Spoke Count | 18F/21R |
| Spoke Type | Carbon |
| Nipple Type | Alloy Secure Lock |
| | |
| --- | --- |
| Other | |
| Weight(pair) | 1315g±30g(Ultralight) |
| Rim Finish | Glossy Marbling Black |
| Extras | Rim Tape(Installed), Tubeless Valves, Spokes(3), Quick Releases, Brake Pads(2 Sets) |
| Rider Weight Limit | 285lbs/130kg |
| Recommended Tire Sizes | 700 x 25-33C |
| Certification | UCI Approved |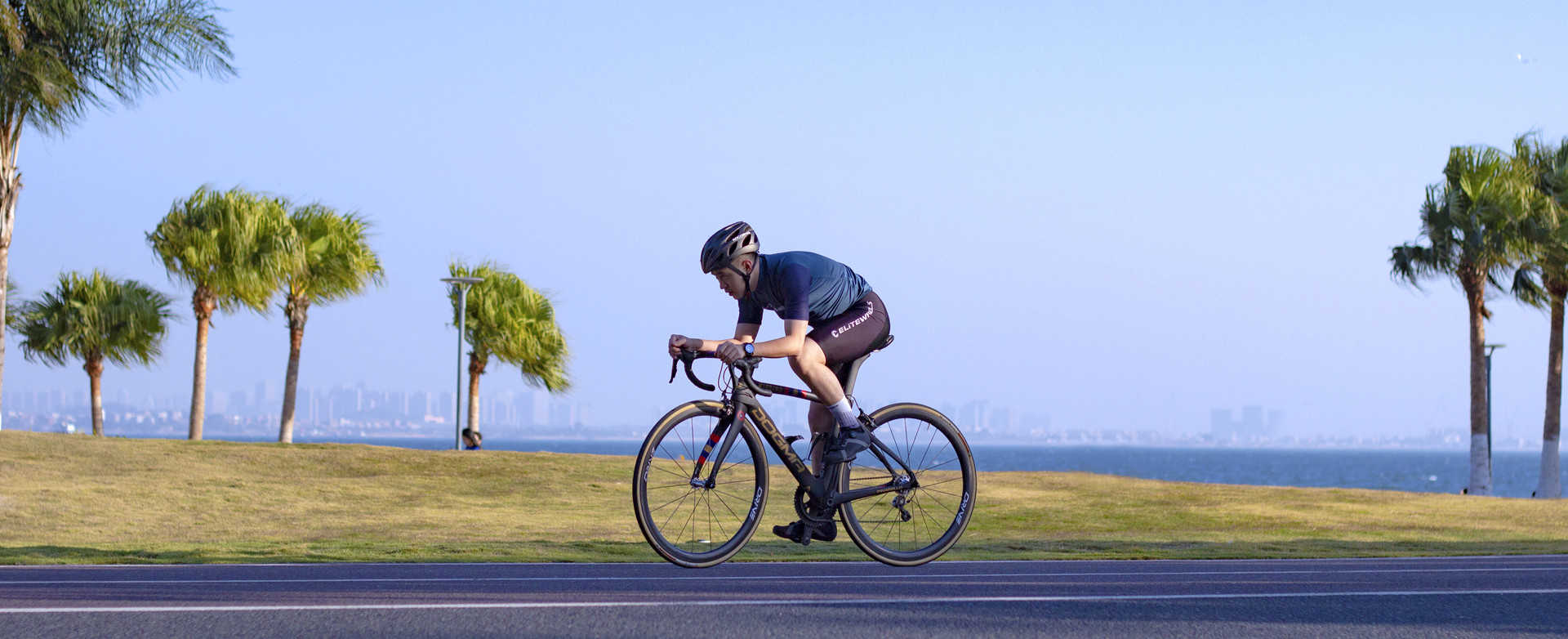 DRIVE RIMS
At Elitewheels, we design our Drive wheels to match the needs of professional riders. In order to deliver the best performance, we incorporate our own UNI carbon fiber, a specific ratio of T800 and T1000 carbon fiber (*Read more about UNI technology), making rims not only strong, but also exceptionally light and stiff. The U/V-shaped rim profile of the Drive 50V was chosen to make the rim both aero as well as stable in windy conditions.
CARBON SPOKES
What separates the Drive 50V from most other wheels is its use of high-modulus carbon spokes. They are 3.2mm wide aero bladed spokes, offering 7% more lateral stiffness as compared to equivalent steel spokes. The carbon spokes are mechanically secured, giving the benefit of being able to be trued and maintained just like regular steel spokes. Anti-loosening technology is also incorporated into the spoke nipples. The threads built into the nipples give them a double-locking effect.
PERFORMANCE HUB
To get the most out of carbon fiber spokes, we specifically designed the hub with high flanges to further increase lateral stiffness and improve handling. Elitewheels manufactures its own high precision hubs with Fanuc CNC machines, which can machine to tolerances of just 0.02mm. This not only allows for lower rolling resistance but also increases bearing longevity.
CERAMIC BEARINGS
The 50V's front hub uses two 6803 mixed ceramic bearings. The rear hub uses one 6903 and three 6803 mixed ceramic bearings. These large bearings offer better rigidity. The use of mixed ceramic bearings will allow you to have a more efficient bike, saving you precious watts.
BRAKE SURFACE
The Drive 50V uses a blend of 270 ℃, high-temperature resin, developed by Elitewheels, and Japanese Toray T800 carbon fiber for the brake surface. This heat resistance ensures excellent braking performance even on long, steep descents. The brake track also features laser-etched grooves to clear water away, giving safe, consistent braking in wet conditions.