About Jim
A Renowned Tech Editor
Jim Langley is a longtime American bicycle mechanic. He is an author and former tech editor of Bicycle Magazine and is currently a contributor to Road Bike Rider, an independent, online cycling publication that has reviewed our Drive road wheels. That article, written by owner and publisher Lars Hundley, is available here. At Road Bike Rider, Jim is the Technical Editor and Tech Talk Columnist.
His Writing
Formerly he was even the technical editor of Bicycling, a magazine that is known worldwide, and has been very popular for decades among riders. His major is in English, and his clear, precise, well written articles with his own style makes his articles a joy to read.
Decades of Experience
As far as Jim's history with cycling goes, he fell in love with the sport as a child. He served as a bicycle mechanic between 1972 and 1989 in shops in New Hampshire, Vermont, and California. He is an expert on all things cycling, and in his years as a mechanic, he assembled and repaired thousands of bikes. In addition, Jim has built frames as well and hundred of wheels. His enthusiasm for cycling has encouraged many to start cycling and get riding.
A True Cyclist
In addition to building and repairing bikes, he has a passion for racing, starting with a tour across the US in 1979. He has participated in road, cyclocross, MTB, and triathlon races, though his favorite is road racing. Bicycle enthusiasts can read the many captivating articles on his website(https://www.jimlangley.net/). He also has his own blog that has been around since 2007. His YouTube channel has lots of useful content where viewers can learn about reviews, repairs, tech tips, wheel building, and vintage bikes.
The Review
Unboxing
The following is a summary of his video reviewing our wheels.
Jim started out the review with a thorough unboxing. The purpose for choosing the G45 was because of his new gravel bike project.
The Basics
After an unboxing and a rundown of the G45 wheels, he mentioned some info regarding the checks he would perform on the wheels. In addition to showing detailed information from the website, he highlighted the benefits of UNI carbon fiber. Jim then talked about Elitewheels' rigorous wheel testing.
Specific details about the hub and spokes were then added. He measured and explained the benefits of carbon spokes which are features on every Drive road and gravel wheelset. Wheels were then weighed, and then Jim started the inspection.
Wheel Quality Checks
Trueness and Roundness
A professional wheelbuilder like Jim will typically run a series of tests to determine how well it is built. The first checks were about the trueness and roundness of the G45. Both the front wheel and rear wheel were found to be very true and round. In a truing stand set to a high tolerance, any issues with roundness and trueness can be easily seen. The front wheel and rear wheel were almost perfectly round. Just like all wheels, the wheels were not perfectly true, but he mentioned that because of how well the wheels were true, it would be imperceptible.
Rim Centering
Using a dishing gauge, he checked whether or not the rim was centered over the hub. The reason for this test is to make sure that the wheel is perfectly aligned in the fork. Jim noticed that the wheel dishing was perfect, saying "Man, they got those perfect. Nice job centering the wheels." A rim that is not dished correctly could have issues when it comes to braking.
Spoke Length and Tension
Jim did not check the spoke length because he didn't want to remove the rim tape, which could affect the tubeless sealing. He felt that the test was not necessary in this situation: "In order to use straight pull spokes like this, with their own proprietary carbon spokes with the nipples that they're using on this end, I'm pretty sure that it wouldn't even work."
Using a spoke tensionometer, he measured the tension of each of the spokes. It was difficult for him to get a reading as the tensionometer was not designed for these carbon spokes. "The overall tension is really good, so they get high marks on that, and that's an indication of a wheel that should hold up"  Jim noted. Furthermore, he added, "Also, the fact that it is so true side to side and so true round, that tells you that those minor deviations in individual spoke tensions haven't affected the trueness or roundness of the wheel at all."
Spoke Twist
Next up was the spoke twist test. Using a spoke holder, he was able to tell which spokes were in and out of alignment. Spokes can twist when tightening them and building wheels. Having spokes that are aligned are important for aero bladed spokes, as their direction has an effect on the aerodynamics of a wheel." During the test, Jim found that while the rear wheel's spokes were almost perfect, there were a handful of spokes in the front wheel that were twisted and not aligned properly. Elitewheels has now addressed this issue.
Stress Relieved
Stress relieving is important to make sure wheels continue to be true. This stress relieving fixes any issues where the spokes contact the hub and the rim. It is done by putting lateral pressure on a wheel. Upon performing the test, Jim noted: "Boy you can feel how stiff the wheel is when you do this." After the test, he exclaimed, "It is just as perfect as it was before… They definitely took care of stress relieving the wheels when they built these wheels. That means the wheels should hold up really well right from the get go." This means that the wheels will continue to stay in true no matter how many miles they are ridden.
Tire Checks
Rim Tape Fit and Valve Quality
Jim noticed that the tubeless rim tape was applied correctly. He appreciated how it was installed, "The rim strip to me looks beautiful." Having carefully applied tubeless rim tape is important to prevent any of the sealant from leaking. In general, he was satisfied, "It looks like they've done a really nice job, and the valve stem looks nice too."
Ease of tire Installation and Removal
He first installed a pre-used specialized gravel tire. Jim was able to install it without tire levers. Removing it did require them, however.
Afterwards, he installed a new gravel wheel from Pirelli. "That goes on easily too," Jim said. He was able to get that one off by hand and praised the wheels, "so they passed that test with flying colors."
The Score
For each check he did, he gave a grade and his honest opinion. "These are really high marks overall… The only issue at all is the spoke twist, which is kind of a minor issue."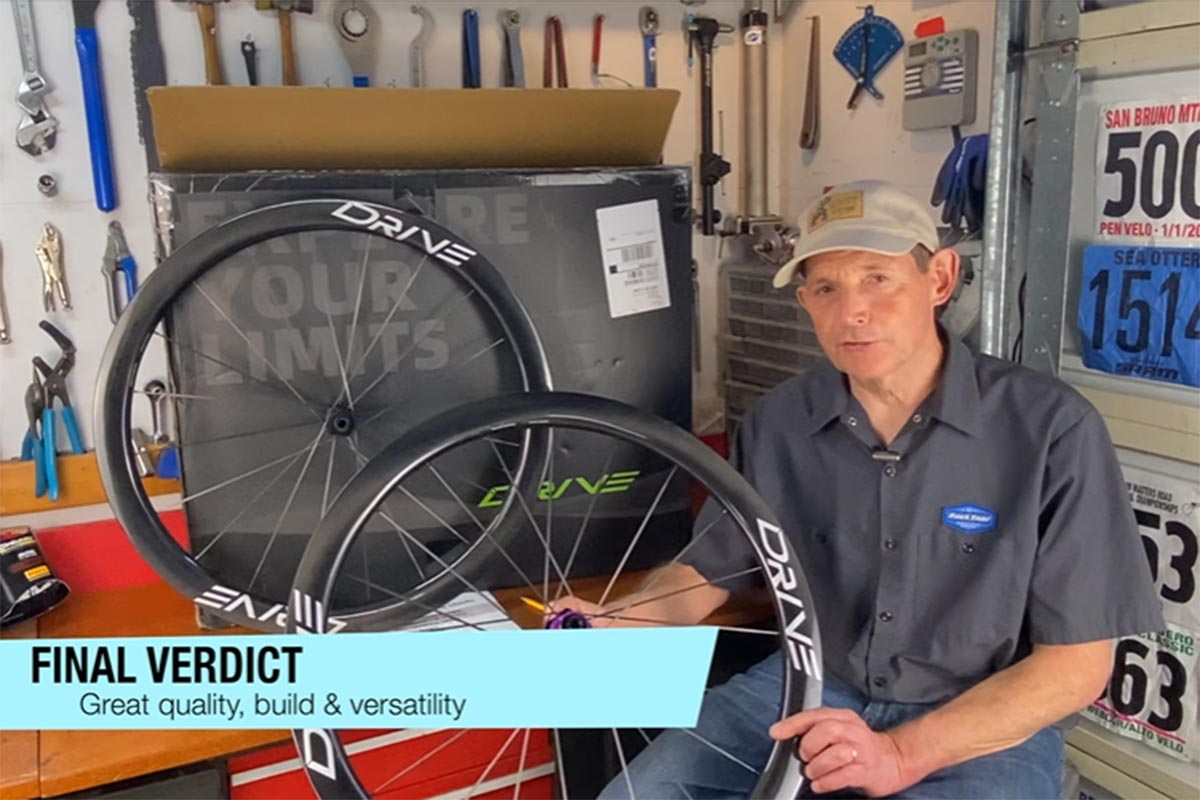 The Verdict
At the end of the video, he gave some final words regarding the quality of the wheels and potential ride characteristics, "Overall these G45 wheels are impressive wheels in all of the checks that we did… This rim looks like a really nicely designed rim… It should have a very stiff lateral feel on the trail. It should be fun to ride. Finally, he recommended them to fellow gravel bike riders, "If you are in the market for a new of gravel wheels, these elite G45s would make a nice upgrade for almost any gravel bike. They are very light, and they should ride great setup the way they are setup and build the way they are built."