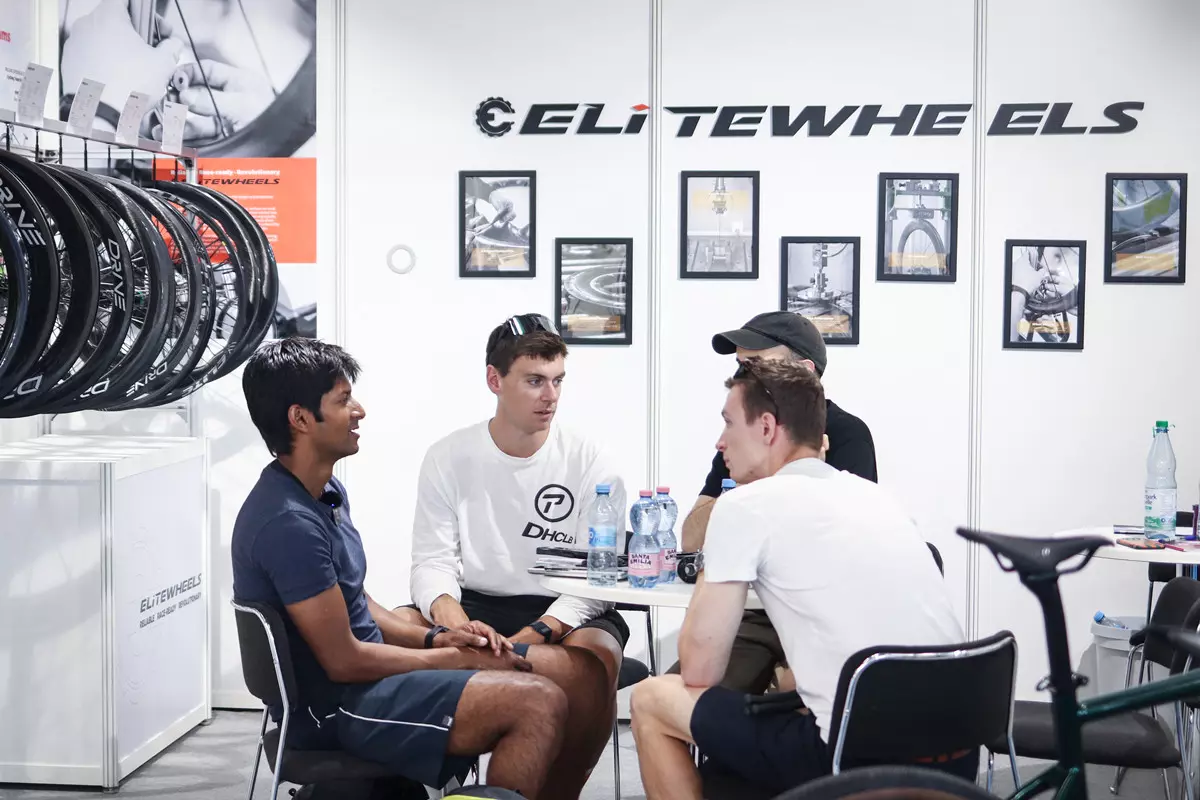 This year marked Elitewheels' first attendance at Eurobike. It was a great opportunity to meet cycling enthusiasts, pro teams, bike shops, cycling magazines, and content creators. In addition, Elitewheels was able to show off the full lineup of of Drive series road wheels, the brand new Gnar MTB wheelset, and a prototype wheelset.
The Wheels
By far, Elitewheels's most popular offerings are the Drive road wheelsets. For this reason, Each of the six wheelsets was brought to Eurobike to offer a hands on experience to visitors. Their lightweight, threaded carbon spokes, and finish are unmistakable, as they really make the wheels stand out.
The 29er Gnar Trail wheelset was brought to showcase what a truly modern MTB and eMTB wheel can be. It has a revolutionary hub with especially high engagement, making it the perfect wheel for technical trails. It is strong, compliant, and ready for tough XC , trail, and AM riding.
Last but certainly not least was the newest wheelset to be released later this year. While not many details have been released, it is sure to make waves among road cyclists.
Content Creators
One way that Elitewheels has tried to share the carbon wheels with the world is by offering them to unbiased content creators who are not afraid to say what they think about them. Transparency is important, and that is why Elitewheels has decided to offer wheels that can be put to the test and shown for everyone to see.
At this year's Eurobike, the engineers Hambini and Alex from Peak Torque visited the booth to chat about all things cycling. They got a sneak peak at things to come, and they offered helpful advice regarding engineering, testing, and design. We value their advice and had a great conversation. It was great to have finally met them in person.
In addition, we had four visits from other content creators, namely Lucas from Lucas goes Bikepacking, Petr from Cyclinghub, Masato from Keimasa Cycle, and Martin From Martin Mata. They were also very friendly, and they shared their experience with the wheels as well as their advice, since they all have interesting and unique perspectives into the world of cycling.
Pro Teams
Elitewheels has become more recognized in professional cycling due to sponsoring four UCI Continental cycling teams: HRE Mazowsze Serce Polski, China Glory Continental Cycling Team, EuroCyclingTrips, and Cycling Team Kranj. The excellent reputation of the wheels is becoming well known, and many teams, including a WorldTeam, have requested to test the wheels and are currently asking for sponsorship. One UCI ProTeam and two UCI Continental teams visited the booth. We are excited for the 2024 season. Our wheels may soon be raced at the top level of Pro Cycling.
Bike Shops
In an effort to make the wheels more accessible to riders around the world, one of our goals is to find new dealers and especially service centers. We met shops and distributors from all over Europe who were interested in partnering with us. Soon the number of service centers may increase, allowing for even easier after sales service.
Cycling Magazines
While we have collaborated with many content creators, our goal is to reach a larger number of riders. Our wheels have been featured on Cycling Weekly, Road.cc, and Cyclist, among others. At this year's Eurobike, we met with two other publications to discuss possibilities for the future, perhaps even having one visit us in Xiamen.
Cycling Enthusiasts
The last three days of Eurobike was dedicated to meeting cycling enthusiasts. Hundreds of individuals came to our booth to check out our wheels and chat with us. It was a pleasure to meet our riders in person and hear their feedback. Knowing that cyclists enjoy riding more because of our wheels makes us feel proud of our work and makes it all worth it.
Summary
Overall, we had a great time visiting Germany and attending Eurobike. In 2024, we will definitely be attending once again. It was the perfect opportunity to meet riders, teams, bike shops and service centers, cycling publications, and content creators alike, and we look forward to next year.